| | |
| --- | --- |
| | Cell Phones |
In December of 2001 my wife and I switched off of the StarTac and onto the Nokia 8260.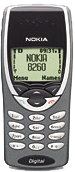 We did this for a couple of reasons. First, the battery life is much longer than on our StarTac's, second, they support e-mail and text messaging, and third, I liked the ability to see the display without opening the phone. We've been very happy with the increased battery life. The sound quality is OK, but I still think our old analog cell phones were better. We use the e-mail and text message features every once in a while. For some reason my plantronics headset doesn't work very well with this phone. The volume is way too low. The supplied headset works just fine, but I don't like it as much.
These phones don't seem as sturdy as the StarTac's. Both my wife and I have dropped our StarTAC's in the past. I've dropped mine onto a concrete driveway and it was just fine. My wife dropped her 8260 once while it was in a case and it still broke the power switch. That was a little disappointing. All in all we're happy with these phones.
Here is some information on our old phones just for reference. My wife and I both had Motorola StarTac cell phones. She's had an analog and I had a digital (ST7790 - TDMA). I think the audio quality is better in the analog phone. The battery life is definitely better in the digital. The digital also has more features and has better rate plans in our area.
The 7790 has some really annoying features that aren't present on most other StarTac's. For instance, when you power the phone off, it makes a confirmation tone. This is really annoying if you want to turn the phone off without drawing attention to yourself. The only way to get around it is to disable all keypad tones.
The 7790 has Caller ID capability, but like all StarTac's, you can't see the display until you open the phone. By default opening the phone answers an incoming call so this makes the caller ID much less useful. You can disable the answer-on-open function and manually answer the phone by pressing a button. This makes caller ID accessible but adds a step to answering the phone.